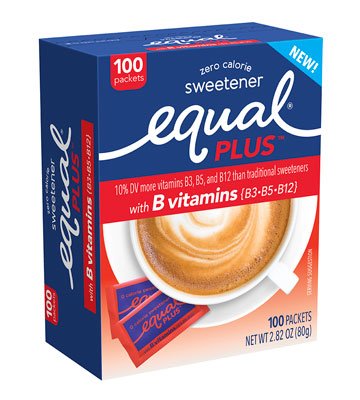 Equal PLUS
B Vitamins
(B3 • B5 • B12)
Equal PLUS with B vitamins has the Equal zero calorie sweetness you love with a good source of vitamins B3, B5, and B12 in the convenience of an Equal packet. Equal PLUS with B vitamins delivers 10% daily value of vitamins B3 (Niacin), B5 (Pantothenic Acid), and B12. Try it in your favorite coffee, tea, or however you enjoy the zero calorie sweetness of Equal.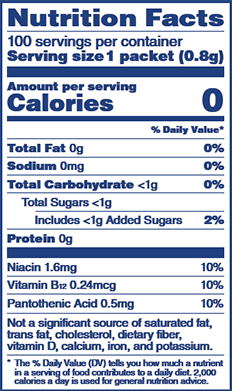 Ingredients
ASPARTAME, ACESULFAME POTASSIUM, NIACINAMIDE, CALCIUM PANTOTHENATE, VITAMIN B12.
1 packet sweetens like 2 teaspoons of sugar
Traditional sweeteners have 0mg of vitamin B3, B5, and B12. Equal PLUS has 1.6mg of vitamin B3, 0.5mg of vitamin B5, and 0.24mcg of vitamin B12.