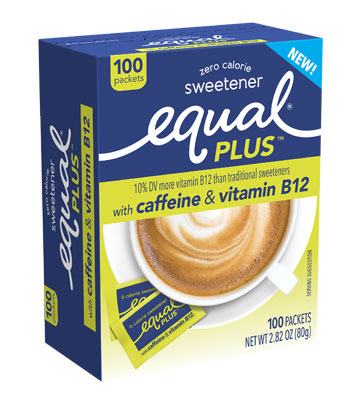 Equal PLUS Caffeine
& Vitamin B12
Equal PLUS with caffeine & vitamin B12 has the Equal zero calorie sweetness you love with caffeine and a good source of vitamin B12 in the convenience of an Equal packet. Equal PLUS with caffeine and vitamin B12 delivers 20mg of caffeine (about the amount of caffeine as ¼ cup of coffee) and 10% daily value of vitamin B12. When you're looking to get that extra bit of caffeine, try it in your favorite coffee, tea, or favorite beverage for the same sweet zero calorie taste.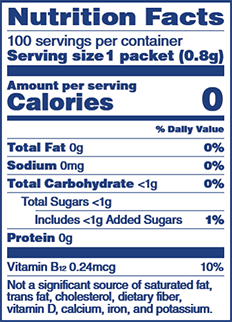 Ingredients
DEXTROSE, MALTODEXTRIN, CAFFEINE, ASPARTAME, ACESULFAME POTASSIUM, VITAMIN B12
1 packet sweetens like 2 teaspoons of sugar
Traditional sweeteners have 0mcg of vitamin B12; Equal PLUS has 0.24mcg of vitamin B12.
Contains 20mg of caffeine per packet. Use caffeine in moderation. Not intended for children, pregnant or nursing women, and those sensitive to caffeine. Do not add to alcoholic drinks.